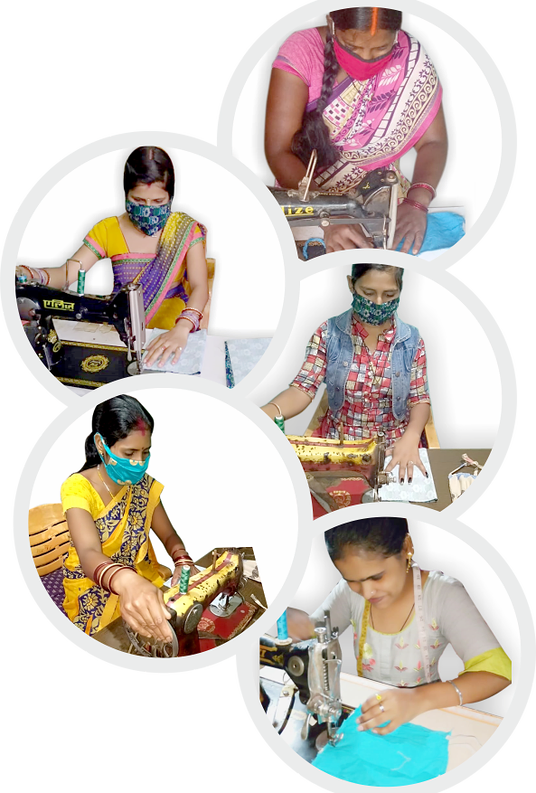 The handicraft industry faced losses to an extent of over 8000 crores (according to Export Promotion Council of Handicrafts ~ EPCH) due to cancellation of orders both domestic and international.
RestartIndia : In our endeavor to 'Creating Sustainable Livelihoods' amidst the current global crisis of nCOVID -19, Haath Ka Bana pledges to create 500,000 man days jobs for daily wagers and artisans of Indian Handicraft by creating 3 crores washable and reusable face mask.
Under the initiative, we re-purposed artisans and daily wagers of Indian Hand loom and Handicraft Industry and their skills to sustain livelihood by making cotton masks. With restricted movement during lockdown, the company managed to contact weavers of Pochampally (Telangana), Surat & Kutch (Gujrat), Banaras (Uttar Pradesh), from north east region – Nagaland and Assam and procured almost 15000 metres of fabric initially. We also tutored artisans to make masks as per the WHO & ICMR guidelines through videos. Since sewing machines were not available with all, the company started involving more and more daily wagers who lost their jobs but were skilled to sew. Today, over 200 women and men in Himachal Pradesh, Uttar Pradesh, Bihar, Orissa, Delhi, Gujarat, Jharkhand and West Bengal are stitching masks under the project and serving the nation's need. And this number is only increasing with the market demands. Today, Haath Ka Bana has shipped over 1 lac handmade masks across the length and breadth of country and even started fulfilling global orders. As far as customers of handmade masks are concerned, the company has touched over 800 retail customers and around 12 government and corporate clients and still counting.
All this offers the artisans and daily wagers alternative livelihood and more over a positive hope for a better tomorrow.